JMK tailor made Anthropocentric Webinars
available now

!

All JMK seminars – webinars are tailor maid to your own needs.

We can pass on warmth, human communication, emotions, knowledge, learning adventure, empowerement, mutual appreciation, THROUGH our screens. We can share the joy of a Webinar, because all of us, who have coexisted for so many years, have a surplus of all of the above. We are not intimidated by technology, the screen does not keep us apart, we do not afraid of the microphones. Our need to be TOGETHER wins!Giannis Kalogerakis will bring to your people the new prospective, the inspiration, the empowerment and the screens will be filled with smiles.And our lives will become more normal. And the new benefit of  all this: You keep the recorded Webinars and your people attend them over and over again. Whenever they need it, whenever new members are added to the group, whenever they request it again.Talk to us to organize the next Webinar in your company. Because distance can bring us closer to the victory of human power!

We bridge the gap. Because it is possible and we can!

Two typical JMK Anthropocentric Webinars
1. WEBINAR for Managers :
How to Effectively Manage Remote Teams, REMOTELY
2. WEBINAR for Employees :
How to Excel, working REMOTELY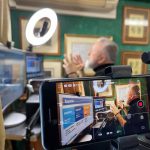 JMK at the Deputy Ministry of Tourism - Cyprus
Two Empowering WEBINARS for all Tourism Professionals – Organised by the Deputy Ministry of Tourism in Cyprus, on 1)Leading Millennials and the new Generation & 2) Leading Change in the Tourism Industry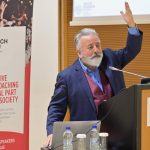 JMK for COACH NOW 2020 hybrid conference
A JMK speech on: Coaching & Leadership can be taught, BUT not suitable for everybody.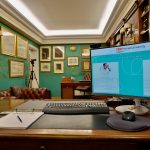 JMK on a TEDxIonian University talk
A TEDxIonianUniversity talk via zoom, on Crisis Management – The Anthropocentric approach.
Contact with Yiannis Kalogerakis
Empowerment and motivational Speeches, Seminars, Counseling, Coaching, Training Programs. Our companions in the exciting journey of Anthropocentric Development are our 50-100,000 trainees each year!